The Civil War and Reconstruction in North Carolina are important and complicated subjects. Early in the planning process, there was considerable debate…
…over the merits of approaching the interpretation from the perspective of southeast North Carolina or from that of the existing museum's regional focus area.
Planners concluded that the whole state's story is the most compelling one. A conceptual feasibility study validated this finding, demonstrating that the History Center will attract wider attention and stronger support by reaching beyond Fayetteville and Cumberland County to tell the larger story.
The result is an $80 million project involving a phased, multi-year approach to both fundraising and the History Center's overall development.
The site will include a 60,000-square-foot main facility built outside the Fayetteville Arsenal's archaeological footprint, protecting the remnants of the asset seized by Confederate forces in 1861 and leveled by General William T. Sherman's engineers four years later.
The existing 1896 E. A. Poe House–described by one visitor as "a delightful step back in time"–and the three Civil War-era structures that form History Village are incorporated into the larger interpretive plan. This project offers North Carolinians and others of inquisitive mind a repository, not merely of artifacts, but of information and a context for it.
Early in 2018, we commissioned two local university students, Dorien Caldwell from Fayetteville State University and Angel Garcia from UNC Pembroke, to produce a three-part video history of the Fayetteville Arsenal site. They did all the filming, research, and...
read more
Antebellum
Before the Civil War, the region's geography, population, economics, and laws shaped the diverse lives of North Carolinians. Enslaved and free Black people rebelled against the institution of enslavement through violent revolt...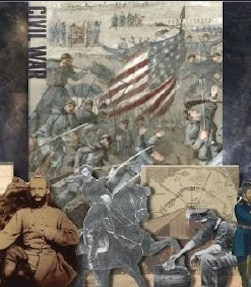 The Civil War
After the election of Republican candidate Abraham Lincoln in November 1860, South Carolina and seven other states seceded before he took office, but President Buchanan did not initiate hostilities...
Emancipation
In May 1861, General Benjamin F. Butler gave semi-protected status and partial freedom to enslaved people who escaped to Union lines from Confederate territory, considering them essentially "contraband of...
Reconstruction
President Andrew Johnson's limited Presidential Reconstruction prioritized reconciliation between the North and South. Its effect was to restore the status quo regarding old wealth and power in the South and the political oppression of...
Post-Reconstruction
In the 1880s, struggling farmers united in the Farmers' Alliance, a national movement that sought agricultural reform and railroad oversight, and formed groups throughout the South...