Building The Museum Of The Future
The History Center is designed to be an educational center rather than a collecting museum. While hosting a respectable core collection, the History Center will…
…collect and display only those artifacts that advance its mission of telling the story of the Civil War and Reconstruction in North Carolina. The interpretive consultants were instructed to focus on finding the most effective means of telling the story – not to rely solely on artifacts. From the beginning, the History Center's planners understood that many, many students from across the state would benefit from the use of technology. So they created one of the nation's first digital master plans to make this authoritative resource accessible to all.
Early in 2018, we commissioned two local university students, Dorien Caldwell from Fayetteville State University and Angel Garcia from UNC Pembroke, to produce a three-part video history of the Fayetteville Arsenal site. They did all the filming, research, and...
read more
Antebellum
Before the Civil War, the region's geography, population, economics, and laws shaped the diverse lives of North Carolinians. Enslaved and free Black people rebelled against the institution of enslavement through violent revolt...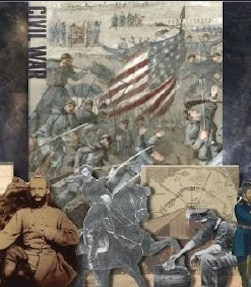 The Civil War
After the election of Republican candidate Abraham Lincoln in November 1860, South Carolina and six other states seceded before he took office, but President Buchanan did not initiate hostilities...
Emancipation
In May 1861, General Benjamin F. Butler gave semi-protected status and partial freedom to enslaved people who escaped to Union lines from Confederate territory, considering them essentially "contraband of...
Reconstruction
President Andrew Johnson's limited Presidential Reconstruction prioritized reconciliation between the North and South. Its effect was to restore the status quo regarding old wealth and power in the South and the political oppression of...
Post-Reconstruction
In the 1880s, struggling farmers united in the Farmers' Alliance, a national movement that sought agricultural reform and railroad oversight, and formed groups throughout the South...