Board of Advisors
Honorary Chairs
Governor James B. Hunt, Jr.
Governor James G. Martin
Co-Chairs
James A. Anderson, Ph.D., Fayetteville
James R. Leutze, Ph.D., Wilmington
Deborah Barnes, Ph.D., Greensboro, NC
Reginald M. "Reggie" Barton, Jr., New York, NY
Frank Block, Wilmington, NC
Mark Bradley, Ph.D., Alexandria, VA
Jimmy Braswell, Hamilton, NC
Martha Brown, Winston-Salem, NC
Norwood Bryan, Fayetteville, NC
John Caldwell, Fayetteville, NC
Jonathan Charleston, Fayetteville, NC
Kevin Cherry, Ph.D., Raleigh, NC
Jeffrey J. Crow, Ph.D., Cary, NC
Angela Crumpler, Garner, NC
William A. Darity, Jr., Ph.D., Durham, NC
Morgan P. Dickerman, Wilson, NC
Samuel B. Dixon, Edenton, NC
John Duvall, Ph.D., Fayetteville, NC
Jubal Early, Charlotte, NC
Lisbeth "Libba" Evans, Winston-Salem, NC
Matthew A. Farina, Southern Pines, NC
Charen Fink, Southport, NC
Chris Fonvielle, Ph.D., Wilmington, NC
David Goldfield, Ph.D., Charlotte, NC
Demetrius Haddock, Fayetteville, NC
R. Phillip Haire, Sylva, NC
Michael Hill, Raleigh, NC
Frank B. Holding, Jr., Raleigh, NC
Charles Broadfoot Holmes, New York, NY
Kenneth B. Howard, Raleigh, NC
Terry Hutchens, Fayetteville, NC
Adrienne Israel, Ph.D., Greensboro, NC
Thomas Lambeth, Winston-Salem, NC
Michelle Lanier, Raleigh, NC
Ken Lautzenheiser, Tarboro, NC
Karl McAlister, Dillon, SC
Gerald Prokopowicz, Ph.D., Greenville, NC
Joel W. Rose, Clinton, NC
Wallace L. Rueckel, Jr., Southport, NC
Don Saunders, Greensboro, NC
Jordan Shaw, Charlotte, NC
Brig. Gen. (US Army Ret.) Steve Smith, Hillsborough, NC
Musette Steck, Southport, NC
Ron Sunderland, Fayetteville, NC
Angela Thorpe, Raleigh, NC
Josephine "Josie" Walker, Raleigh, NC
Darin Waters, Ph.D., Raleigh, NC
Harry Watson, Ph.D., Chapel Hill, NC
Chair:  John M. "Mac" Healy, Fayetteville
Vice Chair:  Mary Lynn Bryan, Fayetteville
Treasurer (nominated):  Tim Richardson, Fayetteville
Secretary:  Margaret Dickson, Raleigh

James A. Anderson, Ph.D., Fayetteville
John Caldwell, Fayetteville
Demetrius Haddock, Fayetteville
Robert H. Kluttz, Jr., Winston-Salem
Ted Kunstling, MD, Raleigh
James Leutze, Ph.D. (Ex Officio), Wilmington
O. Ray Manning, Jr., Fayetteville
Michael McElreath, Ph.D., Carrboro
Benjamin F. Speller, Jr., Ph.D., Edenton
Kelli Cardenas Walsh, Ph.D., Fayetteville
Antebellum
Before the Civil War, the region's geography, population, economics, and laws shaped the diverse lives of North Carolinians. Enslaved and free Black people rebelled against the institution of enslavement through violent revolt...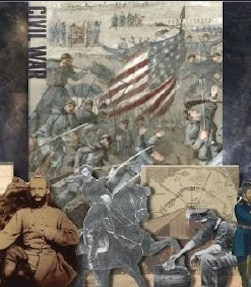 The Civil War
After the election of Republican candidate Abraham Lincoln in November 1860, South Carolina and seven other states seceded before he took office, but President Buchanan did not initiate hostilities...
Emancipation
In May 1861, General Benjamin F. Butler gave semi-protected status and partial freedom to enslaved people who escaped to Union lines from Confederate territory, considering them essentially "contraband of...
Reconstruction
President Andrew Johnson's limited Presidential Reconstruction prioritized reconciliation between the North and South. Its effect was to restore the status quo regarding old wealth and power in the South and the political oppression of...
Post-Reconstruction
In the 1880s, struggling farmers united in the Farmers' Alliance, a national movement that sought agricultural reform and railroad oversight, and formed groups throughout the South...